WINTER BREAK
SCHOOL CLOSED
Mon., Feb. 8th & Tues., Feb. 9th

Special Announcements
Dr. Bormann asks for support on some exciting district initiatives...
New Initiatives for Rumson School District

---
Congratulations to the 2016 Rumson
Teachers of the Year!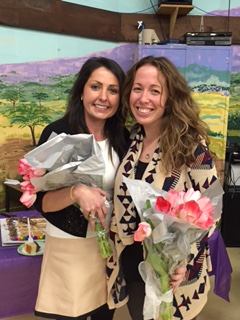 Ms. Brittaney Flynn, Forrestdale
Mrs. Bridget Albrizio, Deane Porter
---
Superintendent's Monthly Message
February 2016
Well the groundhog did not see his shadow, which means spring is on its way! Along with this great news we look forward to celebrating Valentine's Day and honoring the leadership of our great country with President's Day! With this in mind I think about the meaning of February in my first year here in the district and I can't help but allow these ideas to merge and share how much I have "loved" being a "leader" in the education of the students of Rumson. While tough decisions and needed change cross my desk, the ability to do so within the great potential of this district has excited me.
At this point in the school year we are busy "building the plane as we fly it". The staff is working hard to reflect on data, experiences, successes, and needs from a variety of sources to plan for the 2016-2017 school year while continuing to deliver high quality teaching in the current school year. In doing so we are carefully weighing the needs of our students with a sense of fiscal responsibility. This includes ensuring an appropriate balance of academic rigor, character development, and innovative experience in our district. To share in some of these efforts please remember to contact us to let us know if you are interested in participating on our Sustainable Schools Team, Innovation Team, and Wellness Committee.
In closing, I speak on behalf of the students when I quote, "The most beautiful thing in this world is to see your parents smiling and knowing that you are the reason behind that smile" (brainyquotes.com).
With pride,
John E. Bormann, Ed. D.
Superintendent
---
Click on the following links for information:
Get the Rumson School app!
Helpful Links
Genesis Parent Access
Volunteer Information
Rumson Symbaloo
Summer Reading and Math Assignments
District Testing Calendar
Mission Statement (pdf)
School Report Card
PARCC Resources
Report Bullying Incident
Rumson Policy Manual
Lunch Home Page
School Safety Committee Parent Application
Athletic Program
Request Maintenance or Use of School Facilities
Use of Facilities Forms
Board Agenda and Minutes
Rumson Education Foundation
RFH Home Page
Borough of Rumson
Rumson-Fair Haven Community Alliance
School Lunch Questions
Bus Transportation Questions
Alerts and Reminders
Important Health Information
Please be advised that there has been an increase in gastrointestinal illnesses within Monmouth County that includes abdominal cramping, nausea, and vomiting. Attached is the press release from Monmouth County Health Department with guidelines to minimize the spread.
GKAS Day is Friday, February 5, 2016
Give Kids a Smile NJ would like to help your students start each school day with a healthy smile! Every February dentists throughout NJ offer free dental care for children ages 12 and younger. Here are some facts about the GKAS program: Friday, February 5th, 2016 100+ locations statewide Screenings and restorative treatment available Fluoride treatments and sealants to protect permanent teeth Orthodontic evaluations and referrals for braces at select locations Parents can request an appointment at any participating location Please see the list of locations that has been mailed to school nurses statewide Give Kids a Smile is a nationally recognized program of the American Dental Association.
For more information, please visit the Give Kids a Smile page under on the New Jersey Dental Association's website: www.njda.org, under "Public Resources."
Click more for website.
---
STUDENT RECOGNITION...
At the December 16, 2015 meeting of the Rumson Board of Education student recognition took place as follows:
The Board of Education recognized the following students for their efforts in organizing fundraisers:
Abigail S. (Grade 8) Halloween for a Cause Costume Drive

Lula G. (Grade 7) Kortney's coins for the Cure

Brooke B. (Grade 7) Halloween for a Cause Costume Drive

Myles A. (Grade 7) Halloween for a Cause Costume Drive

Leonard I. (Grade 5) Lego Drive to benefit Unterberg Children's Hospital

Lawrence I. (Grade 8) Lego Drive to benefit Unterberg Children's Hospital

Ellen D. (Grade 8) Soccer Cleats and Uniform Drive to benefit peacepassers.org.

Peter O. (Grade 7) Toys for Tots

Rebecca L. (Grade 8) Coat Drive "Bridges at the Shore"

The Board of Education recognized the following students for perfect scores on the 2015 NJASK Science:

Angus D.

Edward D.

Julia G.

Gabriel M.

Nicholas M.

Sydney O.

Charles P.

Katherine T.

---
Wellness Policy
See attached letter from the Superintendent and Policy.
---
Non-resident Tuition Students
The Rumson School District accepts applications for non-resident tuition students who wish to attend our Full-Day Kindergarten and/or our K-8 Academic program for the 2015-2016 school year. **Placements are limited depending on enrollment.
---
FY15_ABR_SELF_ASSESSMENT_4570 (pdf)
---
15.16MarkingPeriodDates.docxrevised7215 (pdf)
---
Bell schedule 2015-2016 (pdf)
---
Board of Education Goals and District Goals 15-16 (pdf)
---
Sports Related Eye Injuries (pdf)
An Educational Fact Sheet for parents.
---
Important Election Dates (pdf)
---
School Climate Survey
We are asking parents to fill out a school climate survey. The purpose is to obtain the thoughts, opinions and perceptions about the environment at their child's school. How parents, students, and staff feel about their school influences the learning environment at the school and a positive environment maximizes student achievement. Our survey also includes feedback on the types of topics you would like discussed during our parent chats. Thank you in advance for your participation.
Click "More" to take survey.
---
User Friendly 2015-16 Budget (pdf)
---
Rumson School District Social Media
Communication is paramount to our team effort. As a result the administrative team and I have been focused on ensuring new pathways to share with the community highlighting the great teaching, learning, and experiences occurring in the Rumson School District.
For those of you that use Twitter you can now follow us at @Rumsonbulldawgs

For those of you that use Facebook you can now follow us at Rumson School District page (there are several, the official one is the one with the picture of Forrestdale School and a Bulldog)

For those of you who want to receive reminder notifications through Remind for Deane Porter School from Mrs. Feeney please text @Bulldogsdp to 81010 (ex. bus pickup is late, spirit days, Back to School Nights, etc.)

For those of you who want to receive reminder notifications through Remind for Forrestdale from Mrs. Gibbons please text @BulldogsFD to 81010 (ex. bus pickup is late, spirit days, Back to School Nights, etc.)

For those of you who want to receive reminder notifications through Remind for the Rumson School District from Dr. Bormann please text @rumsonsd to 81010 (ex. board meeting events, school accolades, safety or security reminders, etc.)
---
QSAC has designated the Rumson Borough School District as a High Performing District
---
Amazon Smile
SHOP Amazon & SUPPORT the REF! A portion of your purchase amount will go to the REF so we can continue making incredible strides supporting our Deane-Porter & Forrestdale Schools! Thank you! Click "More" and start shopping!
---
Upcoming Events
Mon Feb 8
School Closed - Winter break
Tue Feb 9
School Closed - Winter break
Thu Feb 11
RFH Parent/Student Mtg.7PM
Mon Feb 15
CogAT Testing Grades 2 & 5
Lunch with a Loved One
Tue Feb 16
CogAT Testing Grades 2 & 5
Finance Committee - 5:00 pm
REF Mtg. 7:30 pm
Wed Feb 17
CogAT Testing Grades 2 & 5
Ed Committee - 5:00 pm
Thu Feb 18
RFH World Language Placement Test, 3:30 PM
CogAT Testing Grades 2 & 5
Fri Feb 19
CogAT Testing Grades 2 & 5
Sat Feb 20
8th Gr. Pancake Breakfast 8am-12pm