Dr. Bormann asks for support on some exciting district initiatives...
New Initiatives for Rumson School District
---
"PROJECTING SUCCESS FOR OUR STUDENTS"
A PTO- BOE Project 4/6/16
In today's digital world we are surrounded with multimedia experiences at home and work. Even the classroom is no exception….or shouldn't be. Our students in the Rumson School District have so much technology afforded to them, thanks to the support of the PTO and REF, yet in this movement one essential tool has been overlooked. Classroom projectors, specifically designed for use in small and larger classrooms, have become as essential to teaching and learning as the chalkboard and calculator of past days. While the PTO has made efforts in the past to bring this valuable tool to our classrooms, I have approached them to take this effort on as a focused initiative. To be frank, our district is severely lagging in comparison to other schools, in the use of classroom projectors as an instructional tool and I am seeking support in helping our classrooms catch up quickly so we can get to the work of moving forward -- the potential is there, we simply need to provide the tools.
Why projectors?
Projection devices bring sights and sounds into the classroom and offer a visual source for practically any device you can connect. Students can use Google Classroom to quickly throw up a sample of their own work to present to the class. Teachers can wirelessly connect state of the art devices, such as scientific calculators, to work through complex problems as a team. History classes can take on a whole new dimension when a teacher can provide a visual tour of historical events through the power of the internet.
If you can imagine it, you can do it. Classroom projectors are a must-have learning tool to help increase retention, maintain interest, and elevate the learning experience; yet not all of our classrooms are afforded its potential. These devices open up endless opportunities:
Maximize one-to-one experiences through classroom modeling

Integrate video and sound to engage students by bringing topics to life

Bring the internet to life and engage the entire class

Allow student to use the projector for presentations, reports, and more

Incorporate other technologies such as interactive boards and wireless devices to enhance instruction
What is the PTO-BOE Partnership?
Because of the efforts of the PTO and their commitment to elevating our students' experiences the funding of this initiative will allow the 2016-2017 Board of Education budget to utilize funds in other areas: beginning a sustainable cycle of replacing old technologies, supporting teachers with professional development in the maximal use of technologies, and reorganizing and adding to staff to invigorate science, technology, STEM, and independent learning opportunities.
What do we need?
Thanks to prior efforts of the PTO, six projectors were added in previous years to various classrooms in Forrestdale. In addition, because of the installation of projectors in Deane Porter the PTO was able to support the next wave of innovation in grades K-2 with the purchase of Mimio Bars that enable the projected image to become interactive. This is something that could not have occurred without projectors. In the meantime, remaining classrooms in the district lack projectors and the opportunities they provide.
In order to provide these opportunities the PTO has been asked to assist in the purchase and installation of the following:
9 projectors with installation in Dean Porter at a cost of $1,750.00 each. ($15,750.00)
15 projectors with installation in Forrestdale at a cost of $2719.00 each. ($40,785.00)
The PTO has informed me that the Executive Board has made a commitment to making "PROJECTING SUCCESS FOR OUR STUDENTS" its primary fundraising initiative for Purple Pride Night Out on April 16, 2016 at 7:30PM at the Riverhouse at Rumson Country Club. Visit http://www.rumsonschoolpto.com/ for more information on this event. I look forward to seeing as many of you as possible there to help the PTO and I project success for our students!
---
Congratulations to the 2016 Rumson
Teachers of the Year!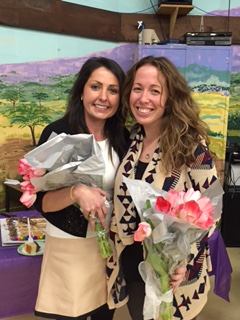 Ms. Brittaney Flynn, Forrestdale
Mrs. Bridget Albrizio, Deane Porter
---
Superintendent's Monthly Message
April 2016
Happy Spring! As we all prepare for our entry into warmer weather and longer days it is also time to turn our attention to some new tasks- spring cleaning, preparing our gardens, and tuning up that bicycle. Here in the Rumson School District we are adding to that list with preparations for several tasks of our own.
In April we will begin our PARCC testing window. All year long our teachers have been working hard to ignite the potential of our students and celebrate their outcomes. The PARCC test is just one of the many measures we value in the district to reflect on the job we all have been doing. In reflecting on 2014-2015 PARCC data the teachers have learned there is valuable information we can gain from this assessment and have been using it to inform curriculum and instruction for the 2015-2016 school year. As we approach this testing window we ask that you support our efforts in making the testing time being used in each students' school day as useful as possible to the faculty. We are committed to ensuring the information gained from this assessment is used, in conjunction with other valuable sources of student performance, to continuously elevate and enrich your child's school experience.
In April we will be approving our district's budget for the 2016-2017 school year. I am very excited for the great opportunities we will be able to provide our students under this budget. While the wonder and luster of learning is not held in a dollar, I don't think anyone can argue that a dollar well spent can help it along. In this budget we are committed to ensuring each of our students is given the tools and resources; in the form of innovative and proven teacher development, classroom resources, district facilities, and curricular programs; they need to ensure their potential is realized. As part of this effort, I applaud the PTO and REF in working closely with the district to support our efforts.
In April we celebrate Arbor Day. Thanks to our Student Government Association, PTO, and Rumson Shade Tree Commission the students of Rumson have taken part in the initiation of a legacy project. This legacy project has resulted in each grade level raising funds to plant a grade level tree on the school campus. It is our hopes that each of these trees will give voice to our students as advocates for our environment- a voice that echoes the sentiments of Dr. Seuss' Lorax, "I speak for the trees, I speak for the trees, for the trees have no tongue. Unless someone like you cares a whole awful lot, nothing is going to get better, it's not."
In closing, I urge you all to click off of this computer and join me in welcoming in spring. Grab a loved one, go outside and plant a seed, hit a baseball, ride a bike, or just sit in the grass and relax!
With pride.
John E. Bormann, Ed. D.
---
Click on the following links for information: