Vision of Light Award!
Congratulations Maria Montanez
School Nurse of the Year!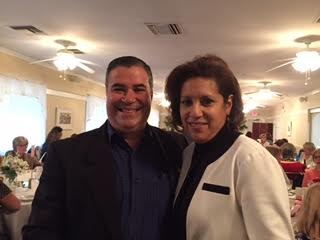 ---
SUPERINTENDENT'S MONTHLY MESSAGE
May 2016
Here we are in the last full month before school lets out! WOW...where has the year gone? As we tear pages from the calendar in anticipation of the summer break, the staff of the Rumson School District is gearing up for its second wind to prepare for a busy and exciting end-of-the-year. From "moving on up" for the third grade to "moving on out" for the 8th grade, we have a lot of celebrating to get done while maintaining a strong academic finish.
Part of this celebrating is to honor the dedicated staff we have here in the Rumson School District. I have not known them even for a year yet I am sold on the fact that they are awesome! So much has changed in their world as educators since I came into the district and I cannot thank them enough for the level of openness and willingness they have displayed for the sake of ensuring the very best education for the students of Rumson.
As part of this celebration, we honor several retirees who will be leaving us at the end of the school year.
Mr. Ken Grasso- Grade 2 Teacher

Mrs. Heather deLaszlo - Middle School Health Teacher

Mr. Bill Lamberson- Custodian

Ms. Denise Friedmann - SBA/BS
While sad to see them go, we wish them all the best. In the famous words of Dr. Seuss in Oh, The Places You'll Go!, "Congratulations! Today is your day. You're off to Great Places! You're off and away! So...be your name Buxbaum or Bixby or Brayor, Mordecai Ali Van Allen O'Shea, you're off to Great Places! Today is your day! Your mountain is waiting. So...get on your way!"
In addition to our retirees, this month we celebrate Teacher Appreciation Week from May 2 through May 6th. This week is filled with the celebration of our entire school staff for all they do! Thanks to the PTO and the Rumson school community for the many fabulous events and treats planned for them. For those of you interested in knowing what you can do to say thank you, the very best gift of all is simply that…"Thank You!" Hearing a few words of appreciation from students and parents is a gift that lasts a lifetime for an educator.
May is also our opportunity to share with the community information about our 2016-2017 school budget. On April 27, 2016 the Rumson Board of Education approved the budget for the 2016-2017 school year. This budget maintains a commitment to the excellence in education the Rumson School District strives to accomplish by continuing to fund proven programs and practices while adding others to elevate students' experiences. The 2016-2017 Budget supports the realization of student potential through…
addition of a 4th & 5th grade science specialist position

revision of ELA & Math curriculum & program materials

expansion of STEM curriculum and programs

revision of Gifted & Talented and Basic Skills programs

addition of project-based learning approaches to teaching & learning

initiation of a new 6-8 science curriculum

replacement of aging technology

installation of new gymnasium floor and bleachers at Forrestdale

professional development of teachers in new reading programs, data analysis processes, character education initiatives, revision of K-5 science curriculum

repair of Forrestdale greenhouse

security upgrades
Visit the Rumson Borough School District website at http://www.rumsonschool.org to learn more about the approved 2016-2017 school budget by viewing the User Friendly Budget and the Public Budget Presentation given at the April BOE meeting.
Before end-of-the-school year momentum takes control of us all I invite parents and community members to reach out to me to share any thoughts, concerns, or ideas. It is always good to hear from you as I begin to prepare for a summer of reflecting and planning with my staff. I can always be reached at jbormann@rumsonschool.org.
With pride.
John E. Bormann, Ed. D.
---
Click on the following links for information: